**New Address Effective 12-9-19 :
4100 Campus Dr, Suite 130, Newport Beach 92660**
Welcome to Handy Wellness
As a Doctor of Chiropractic since 1990, I am dedicated to helping you achieve your wellness objectives -- combining skill and expertise that spans the entire chiropractic wellness spectrum. I am committed to bringing you better health and a better way of life by teaching and practicing the true principles of chiropractic, injury rehabilitation and wellness care.
Good Health Feels Great!
That's our goal! Working with you to achieve optimal physical/biomechanical and chemical/nutritional health. When our system is working well, we can better handle the challenges that come our way. Lets keep learning together how to minimize the stressors on our bodies and what we need to do to replenish and rebuild our system.
If you are new to our website, please feel free to discover and learn about chiropractic wellness and all the support services we offer. If you are interested in starting your journey towards wellness please subscribe to our award winning newsletter. If you are already a newsletter subscriber, please explore the member wellness section of our website for wellness articles, resources, and health facts---specifically targeted to your wellness needs and interests by Dr. James Handy.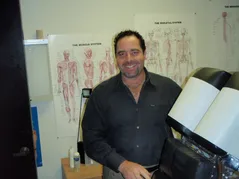 James Handy DC Chiropractor
Located across from the John Wayne Airport.
949-252-1228
What clients are saying:
Dr. Handy is the only chiropractor I would ever trust. He is amazing and his staff is awesome! -Christine
Awesome Chiropractor! Thorough and technical. - Michael
My Favorite chiropractor. Precise, gentle, and knowledgeable. -Rebecca
Dr. Handy was very professional and knowledgeable, I would highly recommend him to others. -Scott

Very friendly office and very informative! -Kelly