How to Avoid the Holiday

Bulge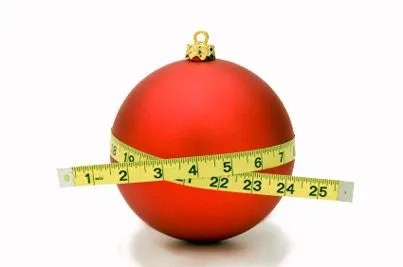 You know it's the holiday season because everywhere you turn someone is offering you another drink or thrusting a box of chocolates your way. TV commercials, magazine ads and even social media posts bombard us with the latest recipes and their delectable pictures. It's as if the whole world is out to sabotage your ability to eat healthy. Here are 12 ways to survive the holidays:
Stock your kitchen with healthful foods. It's difficult to have temptations at every social gathering, so give yourself only nutritional options for meals at home and for brown-bag lunches.

For every alcoholic beverage, drink 8 ounces of water. This will not only curb your thirst, but it will help flush the toxic sugar and carbs.

Fill up on green salad before the meal. And enjoy only bite-size portions of carb-filled side dishes, if any. Skip all condiments to savor the food's flavor and texture.

Verbalize a positive mantra before any social gathering. It's not about denying yourself, it's about making good decisions. "I will eat colorful fruits and veggies" or "I will set an example of health and wellness."

Remove yourself from screen time. On social media, unfollow those sites with too-tempting recipes. You can always turn it back on later. For television, record favorite shows then fast-forward through commercials.

Don't be bullied. Well-meaning friends may try to make you feel guilty for not taking their treats, but stay firm. Refuse to give-in to those who don't have your best interest in mind.

When you feel full, stop eating. It's okay to leave food on your plate, despite what your parents drilled into you.

Stay at least 5 feet from hors d'oeuvres. At holiday parties, keep your distance from the snack table, and occupy yourself in conversation. Make holiday events about connecting with people, not about food.

Keep healthful snacks at work. When you're tempted to eat the goodies a co-worker brought in, grab your healthy snack to satisfy your cravings.

Make daily time for exercise. Even if a busy holiday schedule doesn't allow for your usual routine, fit in a couple of 10 minute vigorous walks.

Make a "budget" for eating. Create an eating budget the same way you budget your money: Figure out how much you want to "spend" on drinks, desserts, appetizers, and meals. Give yourself permission to eat what you budgeted, and no more.

Bake less-or not at all! No one really needs more cookies. If you want to bake for the joy of cooking, simply make 1/2 of the recipe. You'll be less tempted to sample when there's less to offer.