Deep Tissue Therapeutic Laser - Class IV
For Faster Healing and Pain Relief
Dr. James Handy utilizes the K-Laser and LCT1000 CLASS IV Lasers in his Irvine office. Come in and see how this new technology dramatically changes the way we treat injuries and chronic pain.
Unlike the Cold Laser (Low Level Laser), these deep tissue lasers have the ability to penetrate several inches into the target tissue to deliver the photonic energy. With greater power comes benefits and greater precaution. This modality is very safe in the hands of a skilled technician like Dr Handy.

Many cold lasers on the market at the moment are Class III. Meaning, they only put out less than 500 milliwatts of energy. The LiteCure Class IV cold laser puts out up to 10,000 milliwatts of power - penetrating deeper than other lasers to repair tissue faster. The new K-Laser has dynamic range, combining up to 4 wavelengths and frequencies from CW to 20,000 Hz.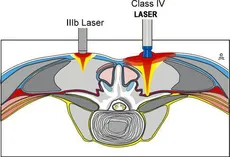 Here's one client's recent review:
Life Saver! The only doctor our family needs! Daughter was hurt in cheer and has competition this weekend. Dr. Handy's office got her in right away...to get her competition ready by Sunday! -Jen

Deep Tissue Therapeutic Laser is ideal for, but not limited to, the following:
Musculoskeletal Pain
Soft Tissue Injuries
Migraine Headaches
Back Pain & Spinal Conditions
Myofascial Trigger Points

Epicondylitis (Tennis Elbow)
Carpal Tunnel Syndrome
Neuropathic Pain
Bell's Palsy
Plantar Fasciitis

Sports Injuries
Sprains & Strains
Knee Pain
Hamstring Tears
Arthritic Pain